Do you want a fail-safe way to improve your business performance? The answer would be definitely YES.
For that, all you have to do is give your customers a strong reason to form an emotional connection with your business.
Overall, 74% of businesses using CRM report agree of having better customer relationships is a powerful management weapon.
Money can not buy one of the most important things vital for your business: relationships. You might think now customer relationships drive your business? That's true!
Good customer relationships are based on a good customer experience. Developing strong relations with customers and creating great customer relationship management examples encourage faster business growth, gain new customers, and retain the existing ones.
The top customer relationship management examples discussed in the blog show how brands put effort into structuring good customer relationships.
What is customer relationship management (CRM)?
Customer relationship management refers to the art of managing good customer relationships and prospective customers. It is all about understanding who your customers and potential customers are, and nurturing the relationships you have with them. It is about identifying client expectations and how you meet or go beyond their expectations.
A customer relationship model seeks to improve the relationship between a business and the customer. For this, they drive new trends and provide profits for current and future operations and investments.
The below model is one approach to implement CRM.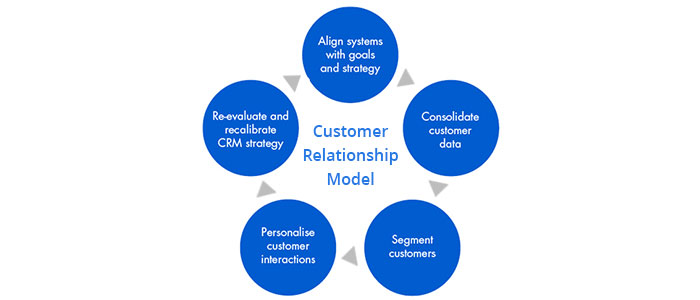 The customer relationship management model can be further categorized into the below stages
Awareness – It is the first touchpoint where prospects try to know more about your brand as a whole.
Discovery – Then you learn and identify the needs of the prospects and share information to fulfill their requirements.
Evaluation – Moving ahead the prospects compare and evaluate your products/services with your competitors.
Intent – Finally your prospect is convinced and made a decision of buying from you.
Purchase – After making the payment the deal is done and the prospect converts into your customer.
Loyalty – Make a follow-up after purchase to determine customer success with your product and ask for referrals.
Start Converting Your Website Visitors Into Customers Today!
How creating good customer relationship management (CRM) foundation matter?
Customers are the heartbeat of all businesses. Therefore, creating good customer engagement examples by strengthening relationships with clients is crucial for business success. Through good and bad times, maintaining a healthy customer relationship with all your customers will help in sustaining the performance of your business.
Whether it is online event companies or trade events, this reason is making/forcing businesses to develop an excellent customer relationship for maintaining good performance. Developing good CRM and management helps your business to set better customer relationship management examples. 
Let's talk about the key areas of developing good customer relationship management
Results in good customer experience – CRM is about creating relationships with your customers so that, they enjoy positive experiences when interacting with your brand.
Growth in customer retention rates – Positive experiences fuels customer retention. Your customers are loyal towards your brand and turn as brand advocates.
High level of customer satisfaction – When you meet your customer expectations with your exceptional service it boosts satisfaction level and they are likely to return to your business again.
So, now let us find out businesses have used innovative customer relationship management and management models/strategies.
ttttttttt
ttttttttttttttttttttttttttttttttttttttttttttt
ttttttttttttttttttttttttttttttttttttttttttttt
ttttttttttttttttttttttttttttttttttttvttttttttt
ttttttttttttttttttttttttttttttttttttttttttttt
ttttttttttttttttttttttttttttttttttttttttttttt
ttttttttttttttttttttttttttttttttttttttttttttt
ttttttttttttttttttttttttttttttttttttttttttttt
ttttttttttttttttttttttttttttttttttttttttttttt
ttttttttttttttttttttttttttttttttttttttttttttt
ttttttttttttttttttttttttttt
ttttttttt
ttttttttttttttttttttttttttttttttttttttttttttt
ttttttttttttttttttttttttttttttttttttttttttttt
ttttttttttttttttttttttttttttttttttttvttttttttt
ttttttttttttttttttttttttttttttttttttttttttttt
ttttttttttttttttttttttttttttttttttttttttttttt
ttttttttttttttttttttttttttttttttttttttttttttt
ttttttttttttttttttttttttttttttttttttttttttttt
ttttttttttttttttttttttttttttttttttttttttttttt
ttttttttttttttttttttttttttttttttttttttttttttt
ttttttttttttttttttttttttttt
ttttttttt
ttttttttttttttttttttttttttttttttttttttttttttt
ttttttttttttttttttttttttttttttttttttttttttttt
ttttttttttttttttttttttttttttttttttttvttttttttt
ttttttttttttttttttttttttttttttttttttttttttttt
ttttttttttttttttttttttttttttttttttttttttttttt
ttttttttttttttttttttttttttttttttttttttttttttt
ttttttttttttttttttttttttttttttttttttttttttttt
ttttttttttttttttttttttttttttttttttttttttttttt
ttttttttttttttttttttttttttttttttttttttttttttt
ttttttttttttttttttttttttttt
***For customized package, please contact us.***